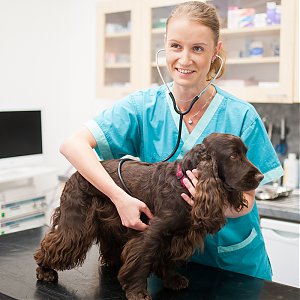 Upon your best expectations !
We approach our animal patients and their owners in such a way that the entire stay in our clinic is as stress less as possible but at the same time effective.
Therefore, after arriving into our clinic you will find that in the waiting room of our clinic there are separate areas for dogs, cats and restless animals, so that even during a short time, when you will be devoted to any of us, you may spend your time with your pet in the environment of discrecy.
We are equipped with many modern devices that make it easier for us to diagnose, treat and rehabilitate. Combined with our many years of experience, the animal patient will be fit as soon as possible and at the same time you do not have to travel with your sick animal to diagnose.
At the same time, we are also available for unexpected and unpredictable cases, thanks to the NON STOP emergency system after a phone call.
We are convinced that although a professional medical intervention, or an address examination, is crucial for the health of the patient, the environment and the way in which the animal patient and its owner are communicated are equally important.
Therefore, in addition to the care of experienced doctors and high-end devices at Primavet, we place emphasis on a pleasant environment, transparency and individual treatment of animal patients, because our experience has taught us that better treatment results are achieved in a pleasant and friendly environment.