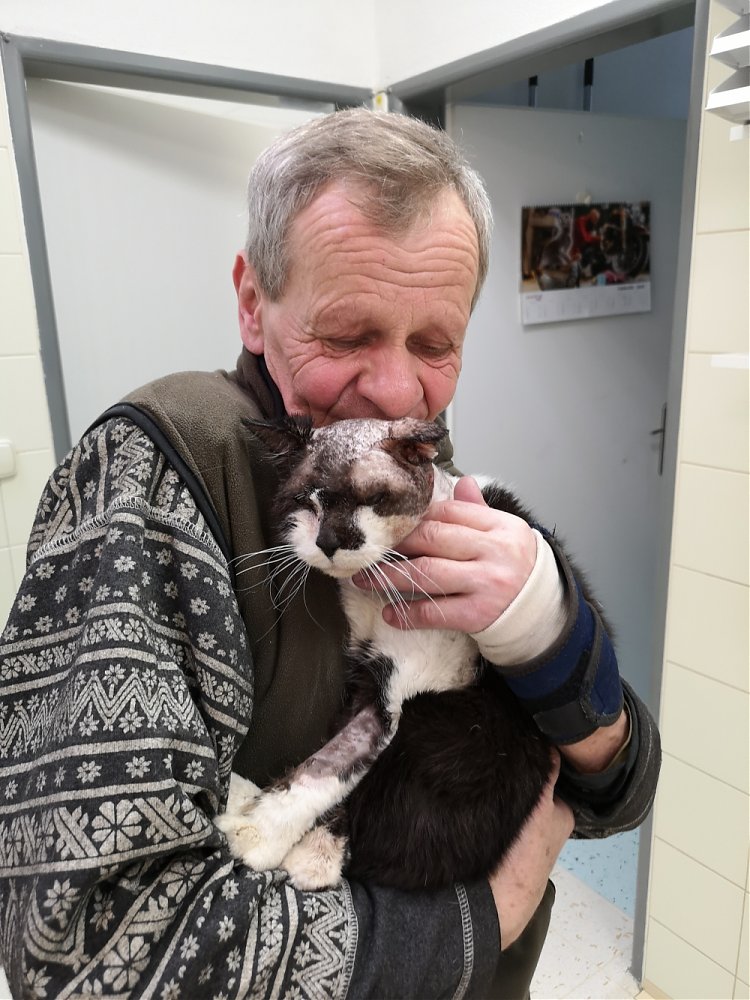 Loving story - man, dog, cat
When the right people come together, everything is possible!
Loving story - man, dog, cat
Mr. Dušan's human story is beginning to have a very positive direction. We have received excellent news from Jana Štiglicová, who is very grateful. It is amazing to see the human belonging and empathy that you all have shown to a great extent, be it the Zodiac ZZ, our clients and other good people willing to help.
Where to start..
The sad arrival of helpless Mr. Dušan to our clinic caught the heart of the entire veterinary team.

In his arms he held almost half-dead shot-bred tomcat Murek.
In a moment, there was a tremendous love and emotion for animals by Dušan.
We gave him a helping hand, we stabilized the boy for weeks on infusion therapy, so that he had enough strength to undergo a difficult and long operation, removing multiple shots, whether in the head or in a poor body.
Mr. Dušan spent many hours in our clinic with Murko, so we gradually began to get to know his human, life story.
We decided to take action, so we always approached the helpful ZZZZ.

Janka Štiglicová immediately acted, visited Mr. Dušan at the clinic and devoted hours of her time.
She went through the papers, debts and iniquities that had occurred to Mr. Dusan years ago.
OZ Zodiac organized an exceptionally successful collection, thanks to which it was possible to get Murko's best care.
We then decided to help the dog Chvostík, which we learned from a long talk from Mr. Dusan.
He had a long-term tumor that prevented him from walking and surviving.
After several hours of difficult surgery, we managed to remove 5 kg of tumor.
Mr. Dušan honestly went to feed his animals and gave them daily strength to stand up and live.
After long-term hospitalization Murko and Chvostík are happy with their owner in health at home.
The intention to help animals through the Zodiac ZZ and other good people has resulted in a significantly rebuilt and tidy household and solving financial debts.
We believe that we all gave Mr. Dušan a new taste for life together with you.
It's nice to help each other, sometimes just stop for a while in our busy world, only the "small" look can change someone's whole life.
We cordially thank you all.
Team Primavet.